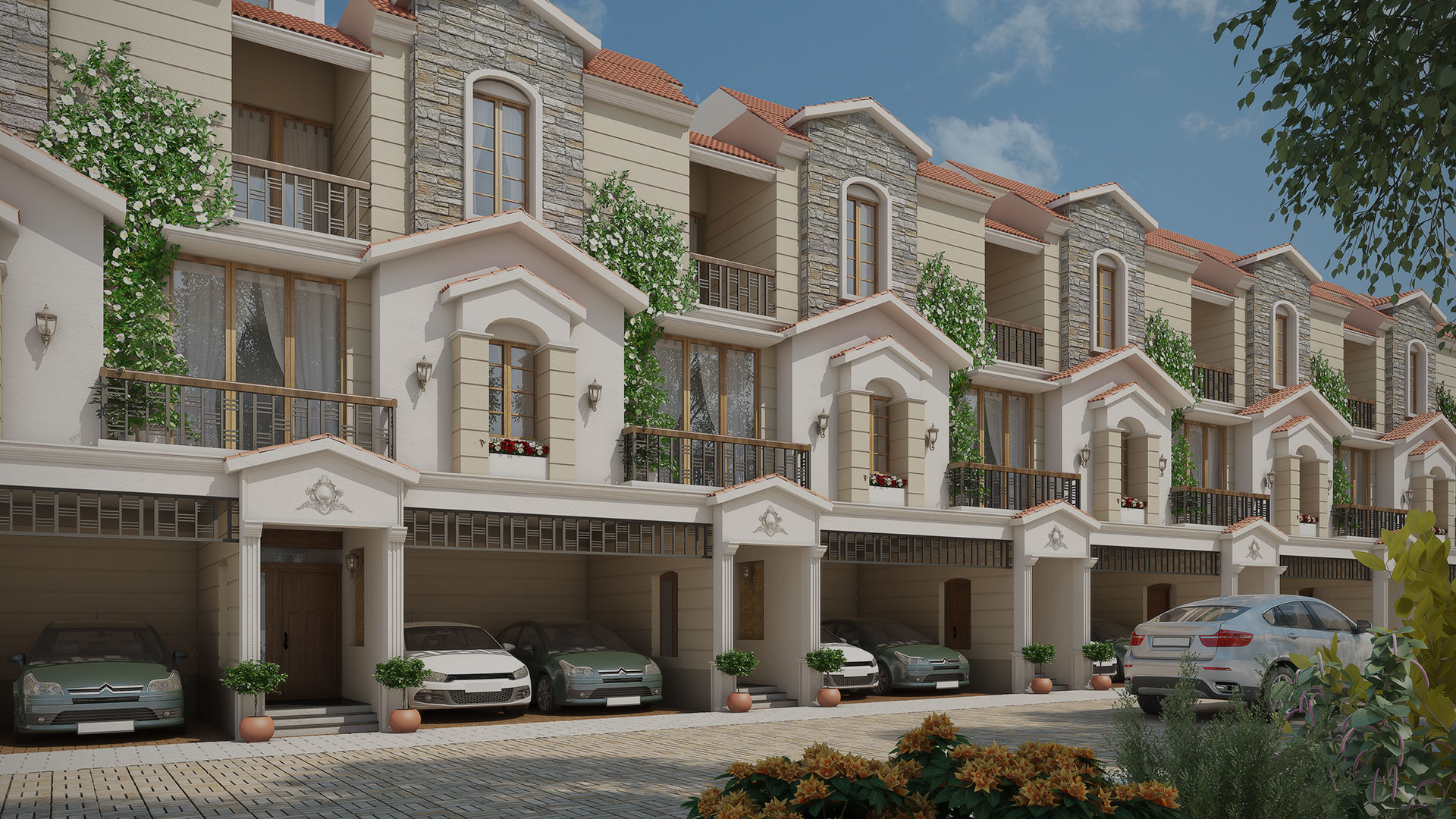 Daiwik Sparsh offers 4 BHK
Luxurious Row Houses In Whitefield,
Bangalore for an enhanced living experience.

There are 59 Row Houses in the
community, each designed to perfection for
modern living matching with contemporary lifestyle.
Welcome to the World of Daiwik
Row Houses In Whitefield Bangalore For Sale
If you are looking for the best place for property investment in Bangalore, you have come to the right place. Daiwik is among the most renowned property developers in Bangalore, dealing with Row Houses, lavish apartments and gorgeous row houses in Whitefield. We excel in various kinds of villa projects and offer designs that are truly amazing.
With experience of more than 10 years in the real estate industry in Bangalore, Daiwik Sparsh has become synonymous to exquisite Row Houses in the area. We understand the demands of our customers well and build the Row Houses so that they match with clients' expectations. The quality of the Row Houses and row houses in Whitefield Bangalore constructed by Daiwik Sparsh is unsurpassed.
Right from the planning of the row houses in Whitefield to their construction, we at Daiwik Sparsh ensure that the minutest details are followed so that the structures remain uniquely gorgeous. Smallest intricacies are kept in notice so that our customers are completely satisfied and find no faults in the row houses whatsoever.
Expanded over an area of 2.2 acres, Daiwik Sparsh offers high-end modern living in the best row houses in Whitefield Bangalore. We also offer the best of amenities and facilities for our customers so that living in Daiwik Sparsh becomes an experience in itself.
Design
We at Daiwik Sparsh know the importance of elements of designs as they are the building blocks of any art form. The row houses in Whitefield Bangalore are exquisitely designed so that living in them turns into a grand affair.

Attention to Detail
To give the best row house in Whitefield to our customers we have exercised complete cross check by leading industry experts. This helps us to deliver high quality row houses in Whitefield to our beloved customers.
Indian Ethos
At Daiwik Sparsh we value Indian customs and traditions, art and architecture and try to implement them in our designs in the row houses in Whitefield. Take a look at the row houses in Whitefield Bangalore and you will find Indianness in every aspect of the construction.
Amenities for Luxury Living
Exquisite perks await you at Daiwik - Row Houses in Whitefield Bangalore.
Clubhouse
Indoor / Outdoor Sports
Private Gardens
Kids Play Area
Swimming Pool
Gymnasium
Paved Roads
24 Hours Security
Explore the World of Daiwik Sparsh
Row Houses In Whitefield Bangalore
Gallery

Floor Plans

Why Daiwik?

Why To Buy Apartments From Daiwik Housing?

Before you buy row houses in Whitefield from Daiwik Sparsh, you must be sure that you are making the investment in the right place. Before anyone else tells you about the reasons of buying row houses from Daiwik, we give you some solid grounds for the same:

* The row houses look awesomely structured and uniform
* Spread over expansive 2.2 acres of land
* The construction of the row houses are as per Vaastu
* They are greatly in sync with contemporary lifestyle
* Designs in the row houses in Whitefield Bangalore are implemented with cutting edge technologies
* High security on round the clock basis
* Healthcare facilities, commercial hub, entertainment facilities, educational centers – all in close proximity to the lavish accommodation destination
* Recreational and play area for kids
* Club house for entertainment
* Swimming pool and gymnasium
* Facilities of outdoor/indoor sports
* Private garden for relaxing

We are located in Varthur, near Whitefield Forum Value Mall, Bangalore
All your recreational and essential needs are a stone's throw away at Daiwik Sparsh Row Houses in Whitefield, Bangalore.
Educational Institutions
| | |
| --- | --- |
| Pratham International School | 200 mts |
| Greenwood International School | 7 kms |
| The International School, B'lore (TISB) | 9 kms |
| Delhi Public School, whitefield | 9 kms |
| Gear International School | 11 kms |
IT Hubs & Companies
| | |
| --- | --- |
| IT Hub at Whitefield | 5 kms |
| ITPL, Whitefield | 8 kms |
| ORR - Marathalli IT Corridor | 9 kms |
| Upcoming IT Hub @ Sarjapur | 12 kms |
| Wipro Corporate Office | 14 kms |
Shopping Malls & Entertainment
| | |
| --- | --- |
| Forum Value Mall, Whitefield | 5 kms |
| D-Mart, Whitefield | 7 kms |
| Shoppers Stop, Outer Ring Road | 8 kms |
| Central Mall, Outer Ring Road | 11 kms |
| Phoenix Market City, Whitefield | 12 kms |
Healthcare & Hospitals
| | |
| --- | --- |
| Vydehi Hospital, Whitefield | 8 kms |
| VIMS Speciality Hospital, Whitefield | 8 kms |
| Sri Sathya Sai Hospital, Whitefield | 8 kms |
| Narayana Multispeciality Hospital, Whitefield | 8 kms |
Reg. Main Office:
# 1555, First Floor, 19th Main, Near Nanda's Hotel, Sector-I, HSR Layout, Bangalore -102.
PH: 080 25727700 / 66
PLEASE SHARE WITH US
Branch Office:
# 23, Third Floor, 14th Main, Opp. BDA Complex, R.I. Keerthi, Sector-IV, HSR Layout, Bangalore -102. PH: 080 25727700 / 66
Site Address:
Daiwik Sparsh Opp Pratham International School, Muthsandra Rd, Varthur, Bengaluru, Karnataka 560087